Equipment Details
Excellent Condition
One careful owner
Shipping £12.00 UK Mainland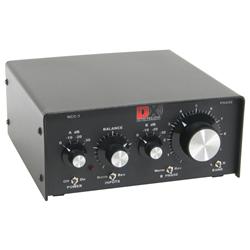 DX Engineering NCC-1 Receive Antenna Variable Phasing Controllers are designed to reduce noise or interference before it gets to the receiver. They can be effective on all types of noise, including interference (QRM) from unwanted signals, and allow the user to continuously adjust both phase and amplitude when combining two antenna inputs. The signal output to the receiver is the addition or subtraction of signals from two separate antennas. Unwanted noise can be removed or unwanted signals can be cancelled. Desired signals can be peaked or enhanced.
DX Engineering NCC-1 Receive Antenna Variable Phasing Controllers generally work best when both antennas have similar patterns, polarization, and signal-to-noise ratios. For the most effective nulling of noise, both antennas must hear the same unwanted noise and should have similar polarization. The wanted and unwanted (QRM and QRN) signals must be arriving from different directions.
DX Engineering NCC-1 Receive Antenna Variable Phasing Controllers have four main advantages over typical phased antenna systems. First, the array can be electronically steered or directed using physically stationary antennas. Second, the user adjusts the direction and wave angle of either a null or peak. Third, the response can change from a signal null to a perfect signal peak with the flip of a single switch. Lastly, front panel adjustments compensate for less-than-ideal antenna installations, making a directional array possible in most situations.
Features include:
— Noise nulling — receive antenna controller reduces overload or interference by nulling a strong local signal or noise before it gets to your receiver
— Better and more stable nulling than any other noise canceller on the market
— Peak weak signals hidden under a strong signal on the same frequency null out local AM broadcast
— Null out noise from power line arcing, lamp dimmers, motors, and consumer electronics arriving from a single direction
— Antenna phasing controller: best alternative to DX Engineering's receive four-square antenna
— Combines two receiving antennas to create a directional pattern
— Enables you to adjust the antenna array pattern as if you were moving the antennas for direction finding
— Exceptional dynamic range, nearly 1,000 times better than nearest competitor
— Phasing voltage controlled, allowing for precise resetting of phase
— Phasing rotates more than 360 degrees with smooth control
— Built-in, 2-channel voltage controlled attenuator system
— Low noise, high dynamic range amplifiers
— Vastly superior dual-channel complementary phasing system
— Very low noise floor
— Separate controls for reversing channel and phase
— Provides power for external active antennas and input for mute on transmit
Quick Specs on the Receive Antenna Variable Phasing Controllers
— Frequency range: 300 kHz to 30 MHz
— Third order output intercept (TOI): +32 dBm each input, +38 dBm both inputs combined
— Gain flatness: +/- 1 dB over complete phase rotation gain
— Attenuators: Adjustable from 0 dB to -40 dB
— Available phase rotation: >360 degrees between 300 KHz and 30 MHz
— Power: NCC-1 +13.8V DC nominal @ 2A maximum
— Antenna port power: 10-30V DC @ 300 mA maximum
— Transmit keying line connector for mute
Note: Whenever the DX Engineering "Documentation" tab is available, please look at the associated files for additional product information.
QRN and QRM are not just Q-codes; they are real problems. Attack these problems head on with DX Engineering NCC-1 Receive Antenna Variable Phasing Controller
Contact us regarding this equipment
Back to Top